Recently a friend asked me to design a summer dress for her to make for some friends children to wear on the the 4th of July at the beach. Now when she said they wanted to do family photos at the beach on the 4th one image immediately came to mind. These images spring to mind when certain things are mentioned, its normal for me. Anyways, this image sprang to mind again, its been in my mind for years and I have attempted this outfit on different occasions for my daughters and gotten close but never quite what I wanted.
So back the pattern. The image that came to mind was one of a 1920s bathing costume.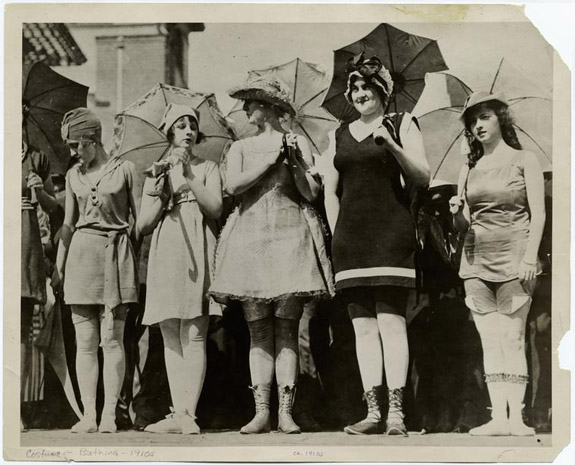 I love the modesty, the coverage and lets face it I love the history of fashions so these bathing costumes have always been a favorite.
So the with the bathing costume in mind and the knowledge that I wanted this pattern to be able to be worn by today's girls I went to the drawing board…..wait wait I went to the computer and started drawing. The end result was exactly what I have had floating in my mind for years.
The bodices of the top can be smocked, a love of mine. I love to see little ones in smocking. I would still put my 8 yr old grandson in smocking of only he and his poppy would allow me to. But at any rate I use and add smocking anywhere possible and in this case the high empire bodice was perfect for smocking. the simple wave stitch was perfect for the bodice.
But knowing that some have not found the love of smocking yet, I decided to include an embroidered and plain fabric options for the bodice as well.
All of the bodices have the option of piping around the neckline and armscyes, finished off with bias binding either self fabric or purchased binding.
The dress has two lengths, we started with one and had to do the tunic length simply because it allows the adorable bloomers to show. But you can definitely just make the dress length and skip the bloomers.
The scoop back and single button closure complete the top and make the back as fun as the front.
Low enough for drama but high enough to keep everything modest its a sure win. The best and most fun part of the back is the button. Make it big and dramatic and fun!
The bloomers are capri length, for fun and for showing off peeking from under the dress. They feature a ribbon or smocked casing and ribbon ties for cinching them in.


I packed this pattern full of any and all options I could think of and can promise I will be making many more for all the little ladies in my world!
Share and Enjoy